Starring Sue Chester and Crystal Monroe
A truck broke through Road Block H at dawn. It was intercepted by a patrol in the southern quarter, and its occupants are being held for questioning.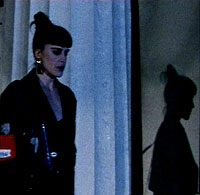 "Cinematography moves that rival Twin Peaks"
"With its well developed storyline, this 24 minute mini-movie incites more provocative thoughts than many full-length features."
"a stylish piece of work"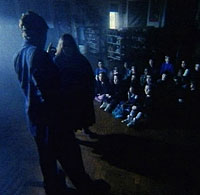 Screened at the London FF, Los Angeles FF, Washington DC FF Philadelphia FF.
Distributed by Jane Balfour Films and transmitted in Norway, Sweden Denmark and Turkey.
Saving Grace - 15 min 35 mm
Starring Robert Cavannah and Alphonsia Emmanuel.
Music by Simon Boswell.
Derek, a reformed paedophile, who has been denied the institutionalised help which he has requested, is desperate to control his depraved desires by avoiding the temptations which surround him.
Derek is disturbed one afternoon by the arrival of Mrs Corda, a persistent Jehovah's Witness, and her mutely obedient daughter Grace.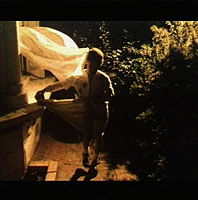 | | |
| --- | --- |
| FESTIVALS | - Edinburgh |
| SCREENINGS | - Ireland |
| | - BBC2 - July 2005 - Homegrown Hollywood. |
Nominated for A BIFA Short Film Award